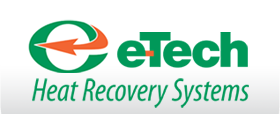 E-Tech Watertube Waste Heat Boilers
Custom Solutions Ranging from 10,000 - 150,000 PPH and Pressures up to 700 PSI.
Accommodates multiple fuels, clean and dirty.
Watertube boilers employ water-filled tubes within a gas-tight enclosure. Hot flue gasses are passed over the tubes, resulting in rapid boiler response to changes in process conditions.
We can configure our water-tube boiler designs for a range of applications, accommodating the dirtiest gas streams (such as those from combustion of solid fuels and waste) to the cleanest (such as turbine exhaust). When configured with finned tubes, these boilers require a relatively small footprint for the large volume of steam produced.
Each boiler is custom designed to meet specific needs and can include waterwall radiant sections, nested superheaters, economizers and feedwater preheaters. We can also include supplemental firing for increased steam production and, if required, selective catalyst reduction equipment for emission reduction. Every boiler is equipped to meet its unique installation requirements, with boiler trim and controls, breaching, expansion joints, ladders and platforms, stacks, fans, dampers and support structures.
---
OUR COMMITMENT

At E-Tech, we've been engineering precise custom solutions for our customers' waste heat recovery needs since 1976, producing literally thousands of designs for virtually every type of application.
Whether you purchase a single component or a complete system, your E-Tech waste heat recovery equipment will meet your needs effectively and reliably for years to come.
CONTACT US
E-Tech, Inc.
9820 E. 41st Street, Suite 102
Tulsa, Oklahoma 74146
Phone :: 918-665-1930
Fax :: 918-665-1935
Email :: [email protected]