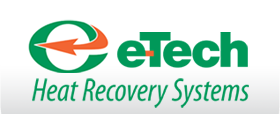 E-Tech's Heat Recovery Steam Generators
Custom-Engineered Units to Fit Your Needs.
Engineered for peak efficiency.
E-Tech combines its long-life economizers with equally dependable evaporator, feedwater heater, and superheater components in custom heat recovery steam generators. Our engineers will custom-design your HRSG unit, taking into consideration the specific operating requirements of your plant and steam turbine-driving needs in a single, fully assembled package. We can also apply supplemental components as needed for your particular application.
---
OUR COMMITMENT

At E-Tech, we've been engineering precise custom solutions for our customers' waste heat recovery needs since 1976, producing literally thousands of designs for virtually every type of application.
Whether you purchase a single component or a complete system, your E-Tech waste heat recovery equipment will meet your needs effectively and reliably for years to come.
CONTACT US
E-Tech, Inc.
9820 E. 41st Street, Suite 102
Tulsa, Oklahoma 74146
Phone :: 918-665-1930
Fax :: 918-665-1935
Email :: [email protected]