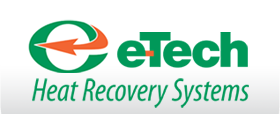 E-Tech Firetube Waste Heat Boilers
Custom Solutions Ranging from 100 to 1,000 HP and up to 300 PSI.
Excellent for petrochemical and thermal oxidizer applications.
Firetube boilers work by forcing exhaust gases through tubes immersed in water and represent the most economical means of generating steam from waste heat. E-Tech firetube boilers are generally used to generate steam from engine, thermal oxidizer and furnace exhaust.
E-Tech offers single- and multiple-pass designs in either vertical or horizontal tube arrangements; all are constructed to ASME standards and feature a basic boiler control package.
We can customize your firetube boiler to include refractory lined tube sheets and tube ferrules. We also offer dual-drum piggyback designs for enhanced steam quality, as well as superheaters and economizers to meet further quality and efficiency standards. We can create a complete boiler package for your plant, with additional equipment such as inlet and outlet breaching, stacks, dampers, ladders, platforms and expansion joints
---
OUR COMMITMENT

At E-Tech, we've been engineering precise custom solutions for our customers' waste heat recovery needs since 1976, producing literally thousands of designs for virtually every type of application.
Whether you purchase a single component or a complete system, your E-Tech waste heat recovery equipment will meet your needs effectively and reliably for years to come.
CONTACT US
E-Tech, Inc.
9820 E. 41st Street, Suite 102
Tulsa, Oklahoma 74146
Phone :: 918-665-1930
Fax :: 918-665-1935
Email :: [email protected]