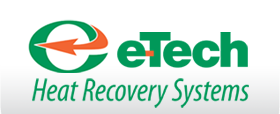 An E-Tech Economizer Can Keep Your Energy Dollars from Vaporizing Into Thin Air.
Economizers from E-Tech capture your wasted revenue – and may be eligible for some government grants and rebates.
OUR COMMITMENT

At E-Tech, we've been engineering precise custom solutions for our customers' waste heat recovery needs since 1976, producing literally thousands of designs for virtually every type of application.
Whether you purchase a single component or a complete system, your E-Tech waste heat recovery equipment will meet your needs effectively and reliably for years to come.
CONTACT US
E-Tech, Inc.
20701 E. 81st Street, Suite 3
Broken Arrow, OK 74014-2927
Phone :: 918-665-1930
Fax :: 918-665-1935
Email :: sales@e-techinc.com