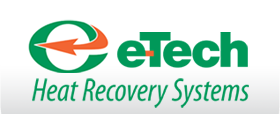 E-Tech Convection Sections
Vertical or Horizontal Gas Flow Installation for Larger Boiler Units.
Custom designed, with capacities ranging from 10,000–250,000+ pph.
This type of heat recovery can take many forms and can be found in process furnaces and conventional boilers. In order to recover additional heat, a convection section is located in the cooler area above the radiant section. Finned tubes on the convection section further enhance heat transfer.
---
OUR COMMITMENT

At E-Tech, we've been engineering precise custom solutions for our customers' waste heat recovery needs since 1976, producing literally thousands of designs for virtually every type of application.
Whether you purchase a single component or a complete system, your E-Tech waste heat recovery equipment will meet your needs effectively and reliably for years to come.
CONTACT US
E-Tech, Inc.
9820 E. 41st Street, Suite 102
Tulsa, Oklahoma 74146
Phone :: 918-665-1930
Fax :: 918-665-1935
Email :: [email protected]